In the spring alaska lake trout fishing can be very productive. I took a few days to go to a secret little nook in Alaska about 500 miles from soldotna the other night. I drove fished and drove home in just 2 days with a little nap along side the road. I had one of the most epic night of fly fishing lake trout that I could have expected. The lake trout took white deceiver flies viciously and often. I used a 200 grain teeny sink tip to start and ended up with a floating line swinging the same fly! Once the fishing slowed down later in the evening I had a chance to break out my Loomis 3 piece glx 7 foot casting rod with a crank bait. I haven't had the opportunity to fish this rod in a long time. I hit another dozen fish and called it an evening! The lake trout were between 4 and 8 pounds and hard fighting fish.
The grayling fishing was as good as it gets as well. I also had a bamboo rod with me that I hadn't fished in 6 years and made sure I worked that rod for a while as well!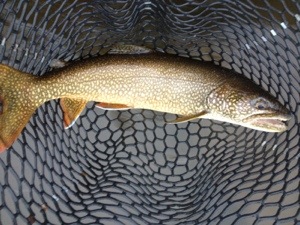 Anytime you are planning on practicing catch and release make sure you have a rubber net with you. This is easiest on the fish and also on you too.
Give us a call and we can talk about lining up your next fishing vacation in Alaska
Tight lines
Scott Sager