Kenai river sockeye salmon fishing has been excellent!
The Kenai River got a push of just under 120,000 sockeye salmon yesterday For a total of around 200,000 fish for the second run. These are great numbers of fish and getting a few shouldn't be a problem for the next few weeks!!! This morning I had a great crew and they had there fish in just a few hours. Once you have your limit of  kenai river sockeye salmon you don't have to quit fishing.  We can then pursue other species like rainbow trout and dolly varden.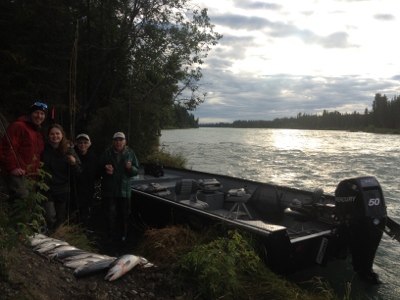 A nice limit of fish like this will keep your freezer stocked up with fresh sockeye salmon for months, if you book multiple days of fishing you could have salmon to eat throughout the year.
If you are interested in having a lot of fun and spending some time on the kenai river sockeye salmon fishing give us a call at 907-382-6808 or check us out online at www.driftingonthefly.com!