Sockeye salmon fishing the Russian river is in full swing. The world famous Russian river is a beautiful place to check out and have a chance at a salmon or rainbow trout.
Be prepared to have an encounter with a bear or two as well. On just a 30 minute hike this afternoon I encountered a small brown bear and her two cubs. Though i personally have never had a bad experience with a bear i always try to have some pepper spray with me just in case! You can pick some up at Wilderness way in Soldotna Alaska.
It's very important to be familiar with the rules and regulations so that we can protect this valuable resource.  Many times there will be posted signs like this one along the stream but do not rely on this.  Carrying a set of Alaska state fishing regulations with you is very important.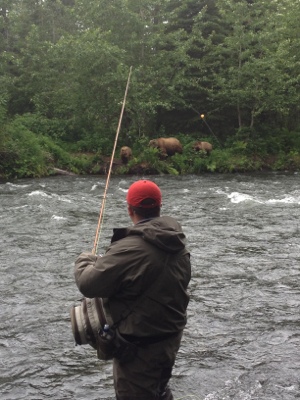 When bears are around on the river quit fishing and give them some space.  This will ensure that we do not teach them any bad habits or associations with humans that they will remember the rest of their lives.
This alone is a great reason to hire a guide for your time on unfamiliar waters.